Fabric Building Use
Dry Bulk Fertilizer Storage
Trustworthy and skilled fertilizer warehousing contractor
Partner with Greystone to design and build your dry fertilizer storage building. 500 tons or 100,000 tons, we can design and build the facility that best meet your objectives in terms of cost and schedule.
Not sure if you want a fabric building or a wood/concrete structure for fertilizer warehousing?
Greystone is not only an expert in fabric buildings, but we have built many wood/concrete fertilizer facilities. Our diverse expertise allows us to design and construct the building type that best fits your budget, schedule, and operational needs. Call us at 888-742-6837 for a free consultation and quote.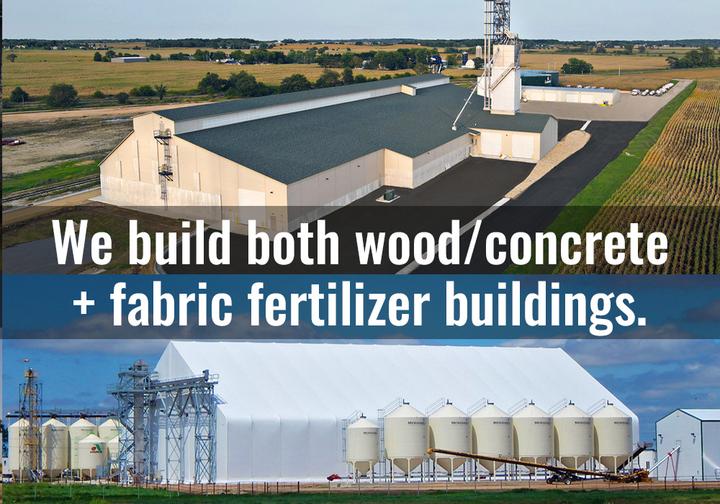 We selected a fertilizer facility design to meet future demands which included the fastest equipment on the market—the declining weight blend system. We required a quality building solution that could go up quickly in the dead of winter and be ready for business by May 1. Kudos to Greystone for making that happen.

The facility design has met expectations. We have a sound building with sufficient storage and the speed we need to keep up with the needs of our farmer customers.
Lane Mielke, Area Operations Manager, Performance Agriculture
Photo Gallery
Dry Bulk Fertilizer Storage Bins, Warehousing & Construction